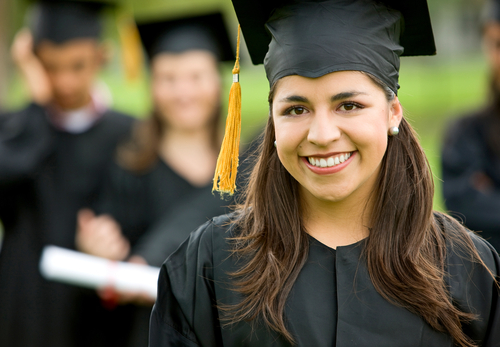 Application for Graduation:
Certificates are processed ONCE a month .
Click Here for our NEW EXPRESS PROCESSING Service
Certificates are only processed for students who have completed the following requirements:
1) Completed and Passed all lesson
2) Completed the "Certificate

Information Form"
3) Tuition payment is paid in full.
The deadline to request your certificate to be processed is the LAST DAY OF EACH MONTH.
WHEN WILL YOU RECEIVE YOUR CERTIFICATE & TRANSCRIPT?
We begin reviewing applications for graduation during the first week of every month. We only review applications from the previous calendar month. For students who have completed all requirement for graduation, a "graduation packet", which includes your Certificate of Completion and Official Transcript, will be mailed. You can expect you graduation packet near or around the 15th of that month.
EXAMPLE: A student completes ALL graduation requirements and applies for

graduation BETWEEN January 1st and January 31st. They will considered

"January Graduate". We will process their certificate the first week of February and certificates
should be delivered by FEBRUARY 15th. Therefore, January Graduates will receive their

graduation packets, in the mail, near or around February 15th.

REMINDER: ONLY FILL OUT THE CERTIFICATE FORM WHEN YOU HAVE MET
ALL GRADUATION REQUIREMENTS (Passed All Lessons, Paid Final Tuition)
(Certificate Information Form)
EARLY TUITION PAYMENT
For students who have completed the program early : (Before final tuition payment has been processed)
You are able to cancel your scheduled payment and make an instant payment to avoid a delay in the processing of your certificate.
________________________________________________________________________________________________
REQUEST ADDITIONAL COPIES
First copies of Certificate and Official Transcripts are free, upon completion of the program.
Additional copies may be requested and mailed to any address provided. Each request for certificate or transcript is $25/request.
Official transcripts, if requested, will be sent in sealed envelopes for secure delivery.
Express processing is also available for these request.
_________________________________________________________________________________________________
ADDITIONAL IMPORTANT INFORMATION:
- A Graduation Packet will be mailed to the student address you have provided us. This includes a Certificate of Completion and an official copy of their transcript.
- The offical copy of your transcript will be delivered in a seperate SEALED envelope enclosed in the Graduation Packet.
- Your first request for your certificate/transript to be mailed will be NO CHARGE. Additional request can be done for a $25 processing fee.
- If you are requesting your official transcript to be mailed to an alternative address, you will be able to make that request on the "Certificate Information" form. The certificate will still be mailed to the student.
- You will be able to check your Graduation Status on the "Graduates" page, located on this website. If you name appears on the list, your certificate has been processed and mailed.